5 Simple Empress Gin Cocktails
This post may contain affiliate links. If you use these links to buy something I may earn a small commission at no additional cost to you. Thanks.
If you're looking to make some simple yet elegant drinks at home, you can't go wrong with these Empress gin cocktail recipes!
As much as I love exploring San Diego's speakeasies and bars, sometimes I just want to stay in and enjoy a nice homemade cocktail. These Empress gin cocktail recipes are some of my go-to easy cocktails to make!
So what makes these Empress gin drinks special? The secret lies in the Empress gin itself. It's made with butterfly pea blossom, which gives this beautiful gin its signature indigo color. The cool thing about butterfly pea blossom is that it changes color with the addition of certain ingredients. If you add cucumber juice, for example, it will change to blue. Likewise, if you add citrus, it will turn pink.
Recipe Ingredients and Substitutions
This post covers 5 different recipes, but these substitutions can be made to any of the recipes the ingredients are found in:
Empress gin: You could use any gin, but Empress is strongly recommended because of its beautiful color and smooth finish!
Simple syrup: All the recipes in this post that call for simple syrup are made using a 1:1 (sugar to water) simple syrup. If you prefer to use a 2:1 simple syrup, you may want to adjust the quantity the recipe calls for so as not to make it too sweet.
Club soda: This can be any soda water, flavored or unflavored. You can also use tonic water or sparkling fruit juice if you prefer.
🥣 What Equipment Do I Need?

You will need a cocktail shaker, a jigger, a fine mesh strainer, a hawthorne strainer, and cocktail picks. Here are the ones I use:
Choosing The Glassware
I will be honest: I live in a small apartment and don't have the storage space for a wide variety of fancy glassware. I made all my drinks in the same glasses, which, in my brother's eyes, was utterly unforgivable. If you want to be bougie, here's a cocktail glass guide to help you discern what drinks should be served in which glasses. Please don't yell at me.
I also recommend chilling your glasses in the freezer for 30 minutes prior to serving to really elevate the cocktail-drinking experience.
Some Helpful Cocktail-Making Terms
Simple Syrup: A liquid sweetener consisting of equal parts sugar in water. If you want to be fancy, you can make this cardamom simple syrup or blueberry simple syrup instead!
Dry Shake: Shaking ingredients in a cocktail shaker without ice. This is always done with any recipe that contains egg so that the egg white can combine with the other ingredients and become frothy.
Double Strain: Straining your cocktail through two strainers: first the hawthorn strainer on your cocktail shaker, and then a fine mesh strainer placed over the glass you're pouring your drink into.
🍾 Empress Gin French 75
Ingredients
2 oz Empress gin
1/2 oz Fresh lemon juice
1/4 oz Simple syrup
1 1/2 oz Champagne
Instructions
Add gin, lemon juice, and simple syrup to cocktail shaker, and shake with ice.
Double strain into a chilled glass and top off with champagne.
Garnish with a lavender or rosemary sprig & serve.
Empress Gin & Tonic
Ingredients
2 oz Empress gin
6 oz Tonic water (or club soda)
Instructions
Pour gin and tonic water into a chilled glass over ice.
Garnish with a rosemary sprig and a slice of lime.
🍸 Empress Gin Blackberry Gimlet
Ingredients
2 oz Empress gin
1/2 oz Fresh lime juice
1 oz Simple syrup
3/4 oz Fresh grapefruit juice
4 Blackberries
Instructions
Add gin, lime juice, simple syrup, grapefruit juice, and whole blackberries to shaker and shake with ice.
Double strain into chilled glass.
Garnish with fresh blackberries.
🌼 Elderflower & Empress Gin Fizz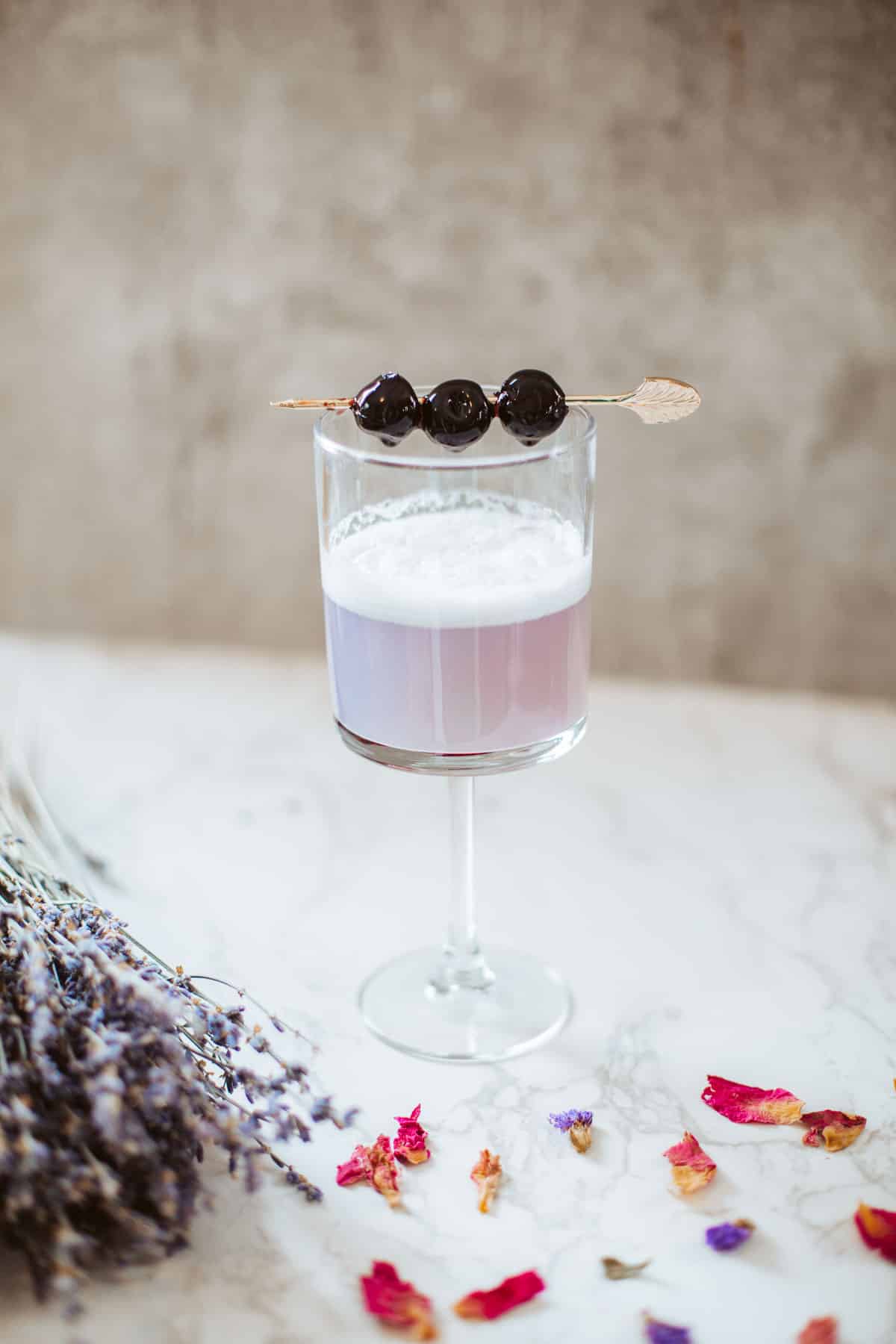 Ingredients
2 oz Empress gin
1 oz St. Germain (or any elderflower liqueur)
1/2 oz Fresh lemon juice
1/4 oz Simple syrup
1 Egg white
2 oz Club soda
Instructions
Add gin, St. Germain, lemon juice, simple syrup, and egg white to a cocktail shaker and shake vigorously (make sure it's a dry shake, so no ice!)
Once egg white is frothy, add ice and shake again.
Double strain into a chilled glass and garnish with cocktail cherries.
Empress Arctic Puffin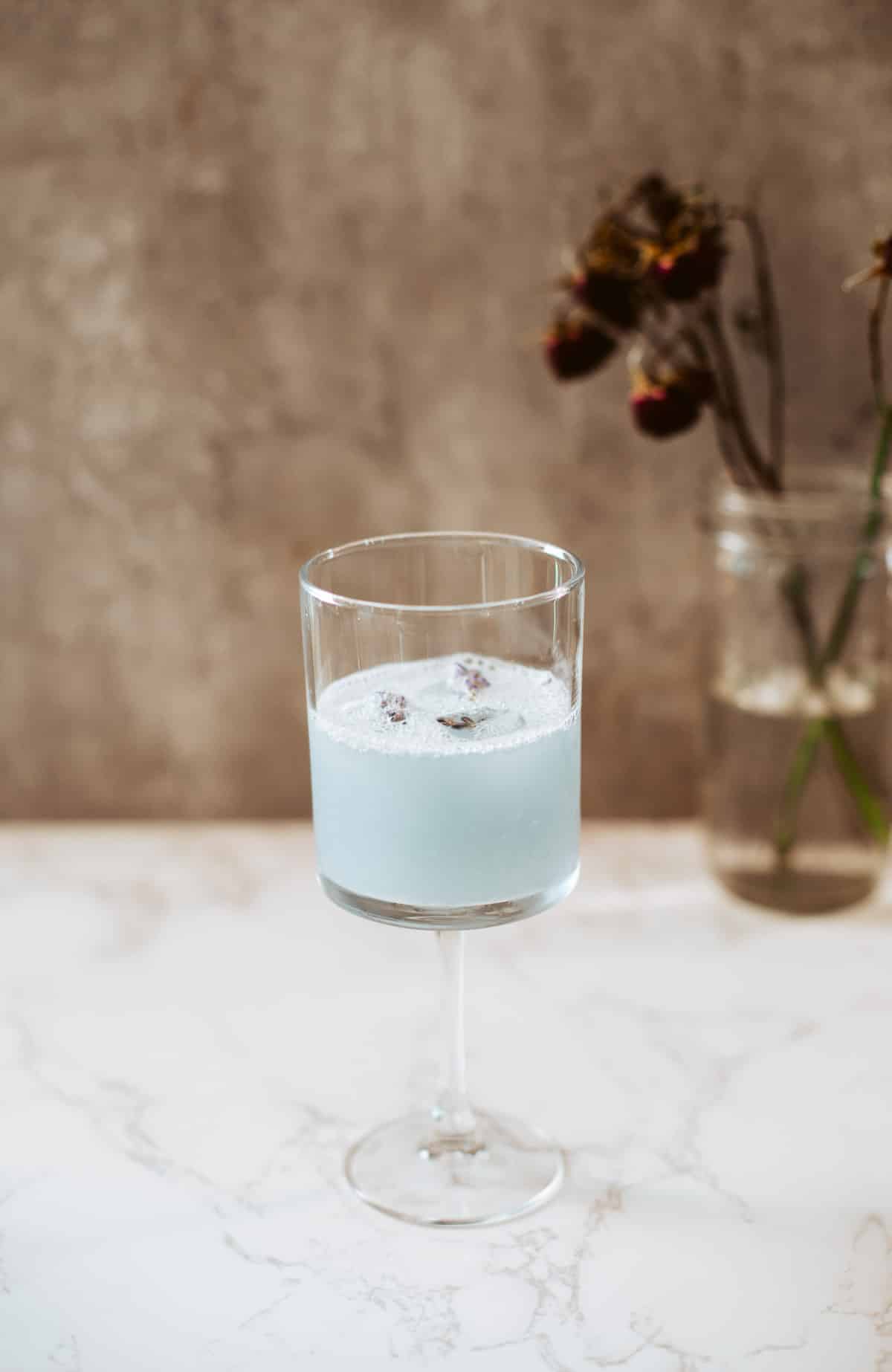 This one is my own creation! Hope you like it!
Ingredients
2 oz Empress gin
1 oz Pear liqueur
1 oz Simple syrup
1 Egg white
Instructions
Vigorously dry shake Empress gin, pear liqueur, simple syrup, and egg white in a cocktail shaker.
Shake again with ice, then double strain, top with fresh lavender, and serve!
Garnishes To Enhance Your Empress Gin Cocktails
Fresh berries on a cocktail pick
Grapefruit peel
Cocktail cherries
A sprig of rosemary or lavender
A mint leaf
A slice of cucumber, orange, lime, etc.
Botanicals such as rose petals, butterfly pea flowers, etc.
Check out this article on how to make cocktail garnishes for more ideas!
🤷🏻‍♀️ Recipe FAQs
What tonic goes best with Empress Gin?
Fever-Tree makes a high quality tonic water that works well with Empress Gin drinks. If you prefer a tonic that adds some additional flavor, their elderflower tonic or pink grapefruit tonic are great flavors to choose from!
Why does Empress gin turn pink?
Empress gin will turn pink with the addition of citrus such as lemon juice, lime juice, or grapefruit juice.
What can I add to Empress gin to change color?
If you want to change the color of Empress gin, citrus such as lemon, lime, or grapefruit juice will turn the gin pink, as will elderflower liquer. Cucumber juice or egg whites will turn the gin a lovely shade of blue.
👩🏻‍🍳 Pro Tips
Chill your glasses for 30 minutes in the freezer before serving to elevate the experience of drinking your Empress gin drinks.
Before adding egg whites to your Empress gin cocktail, place the egg in a cup of water. If it sinks to the bottom, the egg is still good! If it floats, the egg is bad.
Love these Empress gin cocktail recipes? Please leave a 5-star
🌟🌟🌟🌟🌟 rating in the recipe card below & a review in the comments section further down the page.

Stay in touch with me through social media @ Instagram, Pinterest, and Facebook! Don't forget to tag me when you try one of my recipes!