Celebrity Gravesites – A Guide To Visiting LA's Most Famous Graves
This post may contain affiliate links. If you use these links to buy something I may earn a small commission at no additional cost to you. Thanks."
Nearly everyone who visits Los Angeles hopes to catch sight of one of their favorite celebrities, but this is a much rarer experience than some people realize. There is, however, one surefire way to meet some of your Hollywood heroes that often gets overlooked… Checking out some famous graves in the local cemeteries. LA is home to more celebrity gravesites than any other city in the world!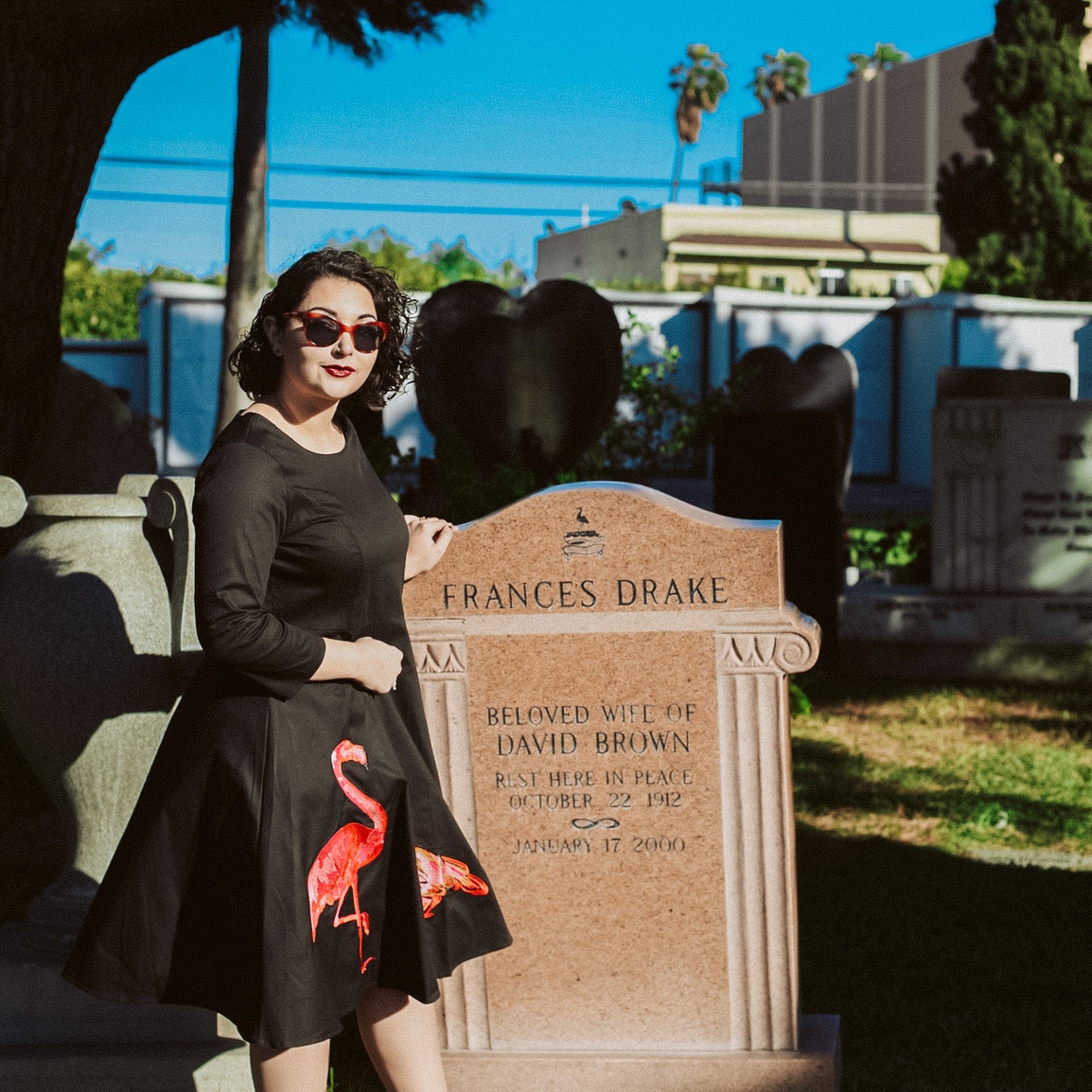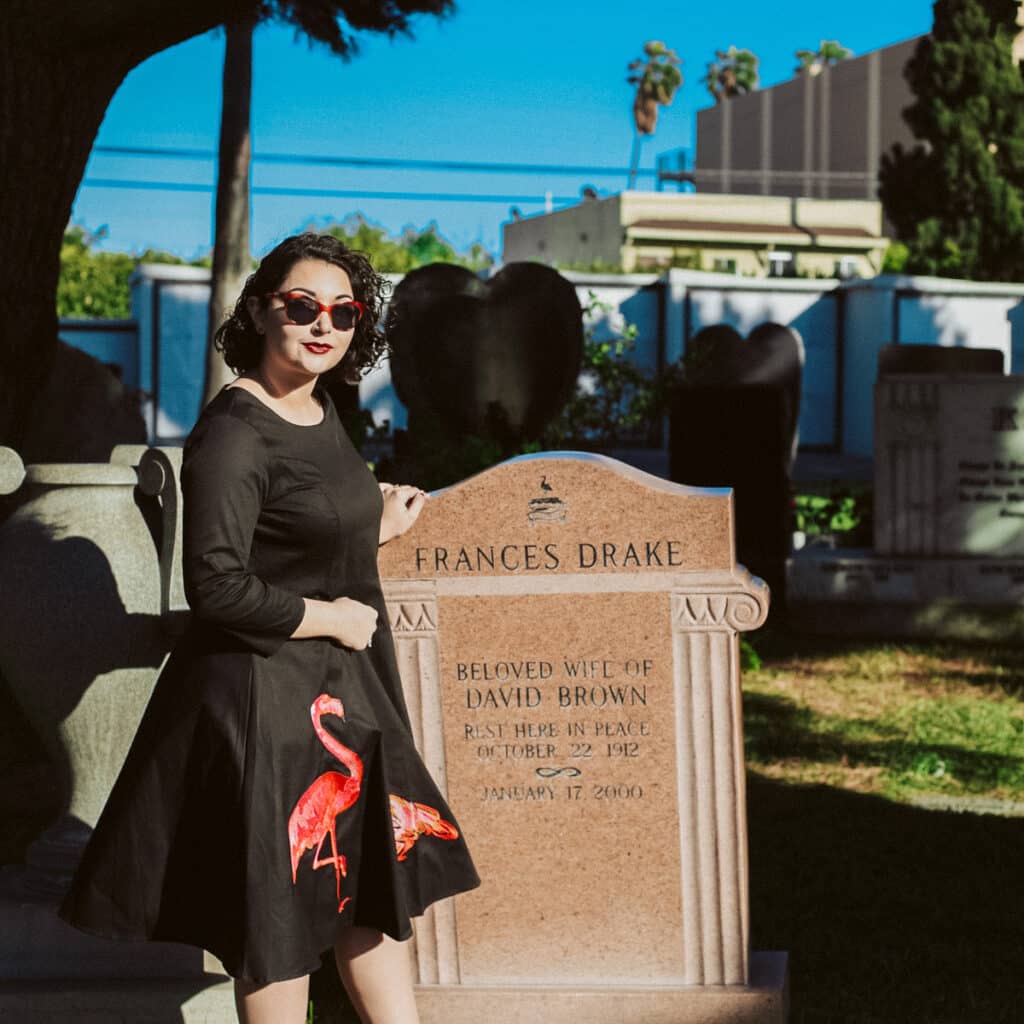 Visiting famous graves has been a hobby of mine for years and it's something I do every time I take a trip up to LA. It's kind of like an offbeat, less crowded, more rewarding alternative to seeing all the stars on the Hollywood Walk of Fame.
If you're looking for a fun way to spend your stay in Los Angeles that isn't too much of a tourist attraction, I strongly recommend visiting the final resting places of the stars who made Hollywood what it is today. You'd be amazed how few people visit these graves!
That being said, it can be tough to find who you're looking for if you haven't done a ton of research. I've become a bit of an expert on this subject so I've created this guide to save you the trouble of searching dozens of websites (most of which contradict each other).
You could dedicate an entire book to this subject, but I'll try to cover the most notable celebrity gravesites at each cemetery.
Know Before You Go: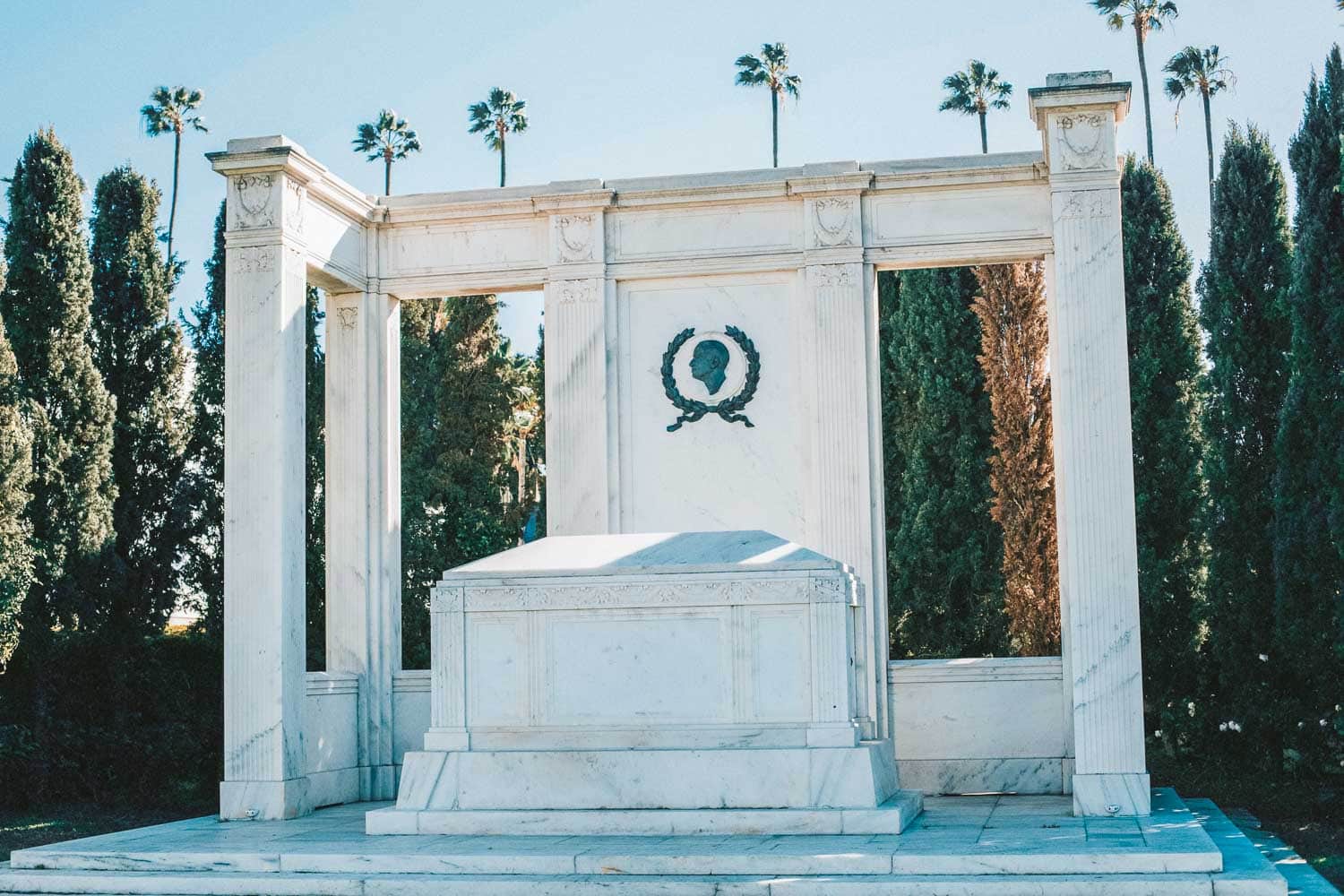 If strolling through cemeteries isn't something you normally do for fun, here are some helpful tips so you can get the most out of your visit.
Download the Find a Grave app. This app has come in handy for me so many times, especially when I've had trouble locating a specific grave. They tell you the exact coordinates of the grave you're looking for and it will also specify if they're in a mausoleum or another specific part of the cemetery.
Learn what the symbols on the headstones mean. Many headstones include symbols to represent the deceased's religious beliefs as well as personality traits and professions. You can learn a lot about someone based on the symbols on their headstone. Bookmark this handy guide, 86 Beautiful Headstone Symbols and Their Meanings Explained, for reference.
Know your cemetery etiquette. Cemeteries are thought of as "morbid" to most people, but they can also be a beautiful place to spend a peaceful afternoon. It's not uncommon to see people having picnics, taking walks, and even doing yoga classes in these cemeteries. That being said, it's important to keep in mind that there are some visitors who are still mourning loved ones. Be respectful while you're there.
Hollywood Forever Cemetery
Address: 6000 Santa Monica Blvd, Los Angeles, CA 90038
Map of Hollywood Forever Cemetery
Hollywood Forever Cemetery is one of the most beautiful cemeteries you will ever visit. Fans of Hollywood's early days will be especially excited to see this particular cemetery. This is the ideal resting place for Hollywood royalty. The architecture and fountains are gorgeous. Peacocks roam the grounds freely. They even screen movies at night during certain times of the year. Check out Cinespia to see if there are any movie screenings while you're in town!
Famous Residents
Silent film era: Rudolph Valentino, Douglas Fairbanks, Douglas Fairbanks Jr., Marion Davies, Cecil B. Demille, Virginia Rappe, Janet Gaynor, Florence Lawrence, the Talmadge sisters, William Desmond Taylor
Golden age of Hollywood: Jayne Mansfield, Judy Garland, Mickey Rooney, Vampira (Maila Nurmi), Peter Lorre, Fay Wray, Bebe Daniels, Nelson Eddy, Clifton Webb, Tyrone Power, Darla Hood, Victor Flemming, Joan Hackett, Mel Blanc, Hattie McDaniel, Frances Drake
Modern celebrities: Anne Heche, Anton Yelchin, Estelle Getty
Famous musicians: Johnny Ramone, Chris Cornell, George Harrison
Other notable graves: Toto from the Wizard of Oz is immortalized here with a bronze statue, although her actual grave was destroyed due to freeway construction. Charlie Chaplin's mother and son (Hannah Chaplin and Charles Chaplin Jr.) are also interred here.
Pro Tip: You can ask for a map of Hollywood Forever Cemetery at the front offices when you first enter. The map also has a list on the back of most of the celebrity gravesites.
Pierce Brothers Westwood Village Memorial Park
Address: 1218 Glendon Ave, Los Angeles, CA 90024
Map of Pierce Brothers Westwood Memorial Park
This peaceful graveyard is in such an unlikely location that most people have no idea it's there. People drive up and down these city streets and have no idea that Marilyn Monroe is buried just a stone's throw away. It's considerably smaller than any other cemetery on this list, but there are a surprising number of big-name celebrities buried here. I highly encourage you to listen to this episode of the Astonishing Legends podcast called "Celebrity Cemetery" while you're there for a self-guided audio tour of this unassuming little graveyard.
Pro Tip: This cemetery is notoriously difficult to locate. There are no signs, just a small unnamed alley you'd only find if you knew what you were looking for.
If you're coming down Wilshire Blvd. there is a small alley just East of Glendon Ave. Turn into the alley and drive until you dead end into the cemetery.
Famous Residents
Golden age of Hollywood: Marilyn Monroe, Natalie Wood, Bettie Page, Dean Martin, Jack Lemmon, Merv Griffin, Donna Reed, Bob Crane, Billy Wilder, Kirk Douglas, Don Knotts, Walter Matthau, Peter Falk, Rodney Dangerfield, Janet Leigh, Eva Garbor, Lew Ayres
Modern celebrities: Farrah Fawcett, Heather O'Rourke, Robert Stack, Hugh Hefner, Frank Zappa
Other notable graves: Playwright & author Truman Capote, jazz singer Peggy Lee
Forest Lawn Memorial Park Hollywood Hills
Address: 6300 Forest Lawn Dr, Los Angeles, CA 90068
Map of Forest Lawn Memorial Park Hollywood Hills
It's important to note that Forest Lawn is split into two different locations: Hollywood Hills and Glendale. The Hollywood Hills cemetery is much smaller than the one in Glendale (still pretty big, though), but there are still many famous graves to visit!
Famous Residents
Silent film era: Buster Keaton, Fritz Lang
Golden age of Hollywood: Bette Davis, Debbie Reynolds, Stan Laurel, Rod Steiger, Telly Savalas, Steve Allen, Don Rickles
Modern celebrities: Carrie Fisher, Paul Walker, Bob Saget, Brittany Murphy, Marty Feldman, Michael Clarke Duncan, Bob Barker, John Ritter
Famous musicians: Andy Gibb, Liberace, Lou Rawls
Other notable graves: Batman creator Bob Kane
Forest Lawn Memorial Park Glendale
Address: 1712 S Glendale Ave, Glendale, CA 91205
Map of Forest Lawn Memorial Park Glendale
A warning: this place is MASSIVE. Be ready to walk (or drive) a lot. Forest Lawn Glendale is second only to Hollywood Forever Cemetery when it comes to the number of celebrity gravesites you can visit. Some might even say the names here are even more exciting (Walt Disney, Michael Jackson, Clarke Gable, Elizabeth Taylor… I don't know about you but I'm feeling starstruck).
Famous Residents
Silent film era: Mary Pickford, Theda Bara, Clara Bow, Harold Lloyd, Lon Chaney, Alla Nazimova, Madge Bellamy
Golden age of Hollywood: Walt Disney, Elizabeth Taylor, Clark Gable, Humphrey Bogart, Jimmy Stewart, Spencer Tracy, Carole Lombard, Lauren Bacall, Jean Harlow, Errol Flynn, Chico & Gummo Marx, Larry Fine, Dorothy Dandridge, Norma Shearer
Famous musicians: Michael Jackson, Nat King Cole, Sammy Davis Jr, Gene Austin, the Andrews Sisters
The Holy Cross Cemetery & Mortuary
Address: 5835 W Slauson Ave, Culver City, CA 90230
Map of Holy Cross Cemetery & Mortuary
This cemetery is home to some of Hollywood's predominant Catholic stars. The most famous graves here are probably Bela Lugosi and Bing Crosby, but there are definitely several other celebrities worth paying your respects to while you're there.
Famous Residents
Golden age of Hollywood: Bela Lugosi, Bing Crosby, Rita Hayworth, Loretta Young, Mary Astor, Jack Haley, Ray Bolger, Charles Boyer, Mack Sennett
Modern celebrities: John Candy
Other notable graves: Manson Family murder victim Sharon Tate
Other Notable Celebrity Gravesites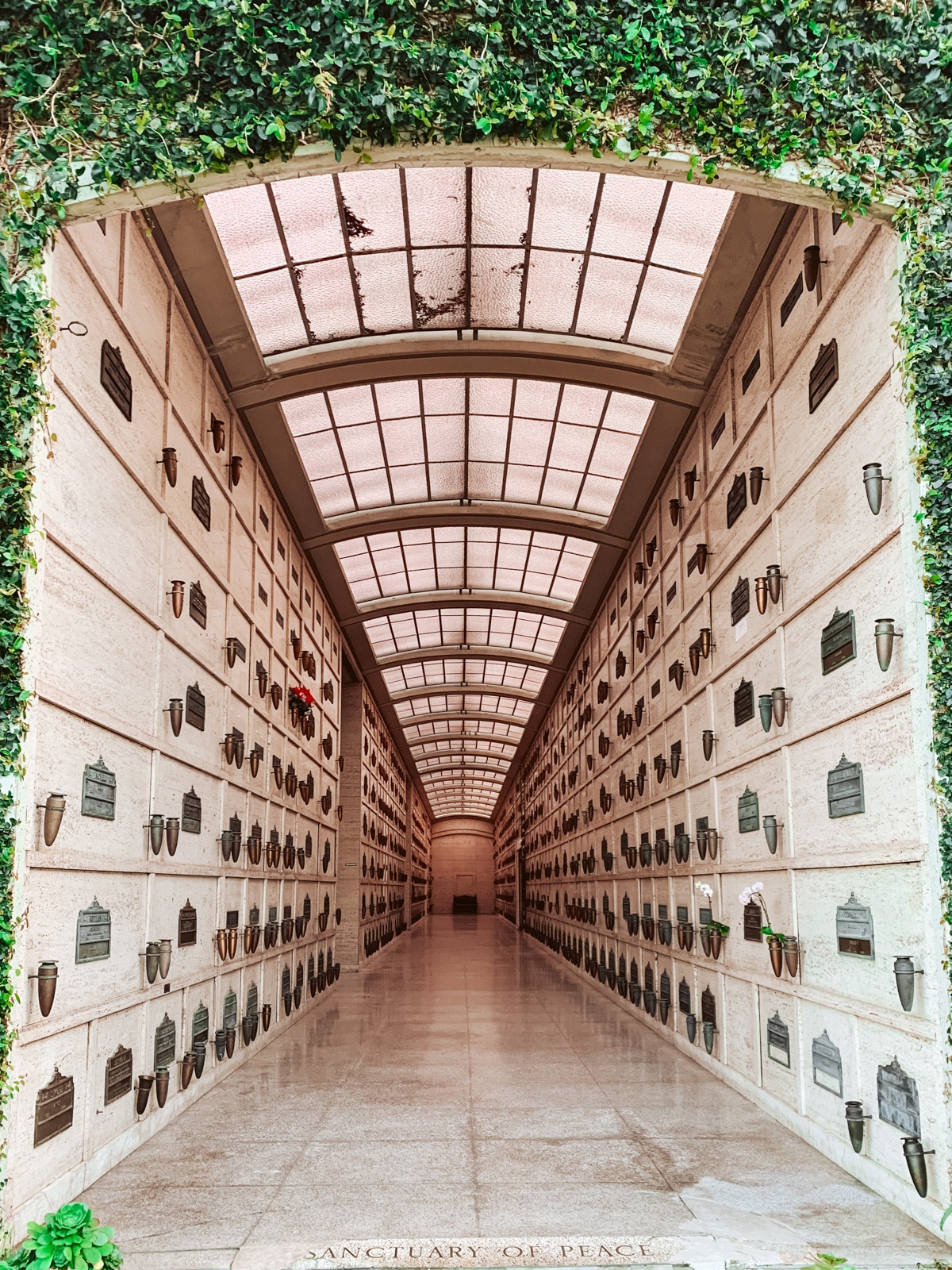 I've done my best to cover as many of LA's famous graves as I can possibly squeeze into one post, but we've just skimmed the surface! There are more celebrity gravesites in the city of angels than any other place in the world, so don't be surprised if you find some famous names that weren't even mentioned on this list. If you'd like to venture beyond the cemeteries I covered in detail, these would be a great place to start:
Inglewood Park Cemetery: Ray Charles, Ella Fitzgerald, Etta James, Chet Baker, Betty Grable, Gypsy Rose Lee, Sugar Ray Robinson
Home of Peace Cemetery: Louis B. Mayer, Fanny Brice, Jerome "Curly" Howard, Shemp Howard, Jack & Harry Warner (Warner Brothers)
Calvary Cemetery: Mabel Normand, Lou Costello, John Barrymore, Lionel Barrymore, Ethel Barrymore, Jack Reagan
Hillside Memorial Park: Shelley Winters, Leonard Nimoy, Eddie Cantor, Moe Howard
Pierce Brothers Valhalla Memorial Park: Oliver Hardy, Curly-Joe De Rita, Criswell
Pacific View Memorial Park: John Wayne, Kobe Bryant
Oakwood Memorial Park: Fred Astaire, Ginger Rogers
Eden Memorial Park: Groucho Marx
Rosedale Cemetery: Anna Mae Wong
Ascension Cemetery: Nicole Simpson
Desert Memorial Park (Palm Springs): Frank Sinatra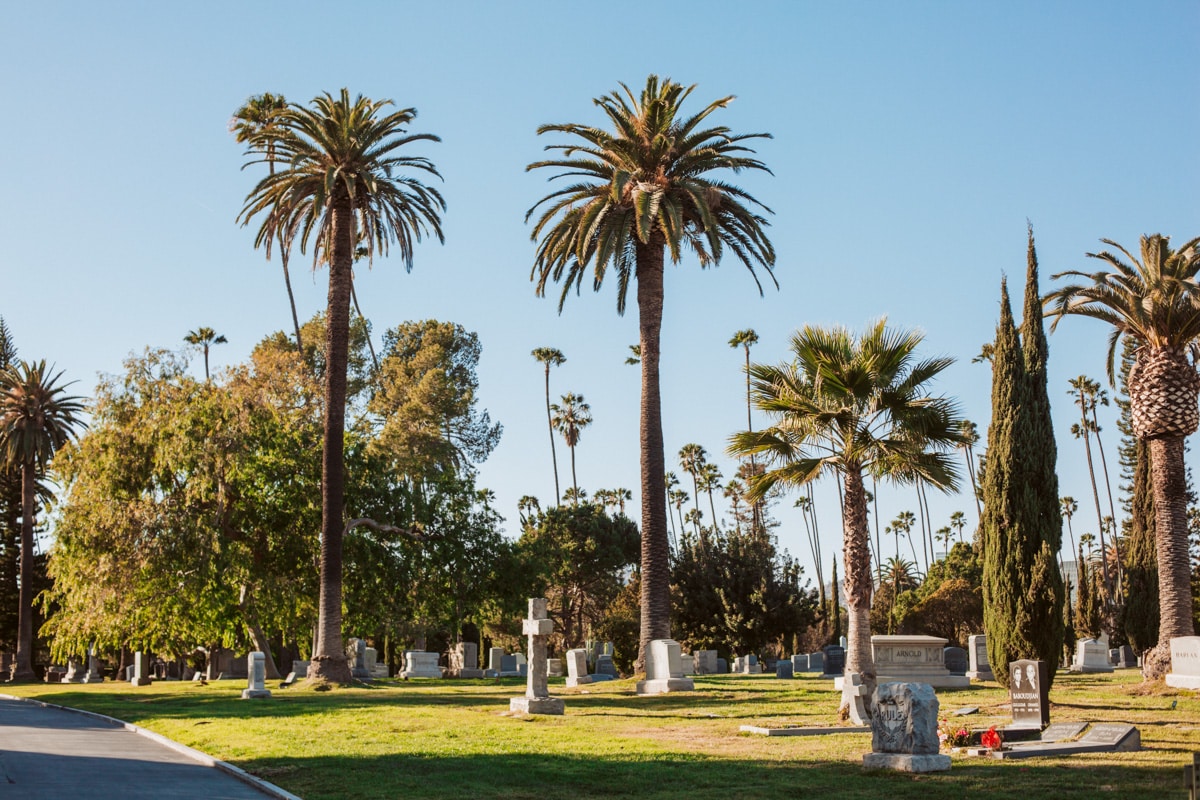 Stay tuned for more content in the future about celebrity gravesites from around the world! I always try to include some famous graves in my itinerary when I travel, whether it's Chicago's incredible Graceland cemetery, Bruce Lee's iconic Seattle grave, or Victorian cemeteries in the English countryside with long histories of legendary hauntings. Meanwhile, check out this amazing guide to famous graves at Arlington National Cemetery!
FAQ's
Where is Marilyn Monroe buried?
Marilyn Monroe is buried (well, interred) at Pierce Brothers Westwood Village Memorial Park in crypt 24 in the Corridor of Memories. If you're standing at the cemetery's front gates, turn left and walk towards the large white crypt walls. You'll find her tomb along the wall that parallels Wilshire Blvd. It's usually covered in lipstick kiss marks, so you should be able to spot it pretty easily.
What graveyard has the most celebrities?
Hollywood Forever Cemetery has more celebrity gravesites than any other cemetery in the world. Many actors and filmmakers who made Hollywood what it is today are laid to rest here including Rudolph Valentino, Judy Garland, Cecil B. Demille, and many more. Forest Lawn Memorial Park in Glendale is a close second with nearly as many famous graves as Hollywood Forever.
Where is Lucille Ball's grave site?
Lucille Ball was cremated and her ashes were buried at Forest Lawn Memorial Park in Hollywood Hills, a cemetery known for its many famous graves. However, in 2002, her family had her transported and re-buried in their family plot in Jamestown, NY where she remains to this day.
Can you visit Marilyn Monroe's grave?
Yes, you can visit Marilyn Monroe's grave! Most people are unaware of where Marilyn Monroe is buried and would be surprised to learn that she's buried at Pierce Brothers Westwood Memorial Park, right in the heart of west Los Angeles. Pierce Brothers is open to the public seven days a week, and it's free to visit!
Is Walt Disney in a grave?
Despite urban legends about Walt Disney's head being cryogenically frozen somewhere under Disneyland, Walt is in fact buried in a grave at Forest Lawn Memorial Park in Glendale, California. His grave is open to the public and free to visit.
Pro Tips
Kissing the headstones of famous graves is kind of an unspoken custom. If you'd like to pay your respects, consider bringing lipstick. 💋
Check out this article, What It Means To Leave Coins On Graves, as you will almost certainly come across this in any given cemetery.
If you're having a hard time locating any celebrity gravesites try searching for them on the Find a Grave app or website.
Most cemeteries have roads throughout that you're allowed to drive and park on. Just make sure you're not parking anywhere that might get in the way.
I'm not sure if every cemetery has this, but I know you can ask for a map of Hollywood Forever Cemetery at the front offices when you first enter.